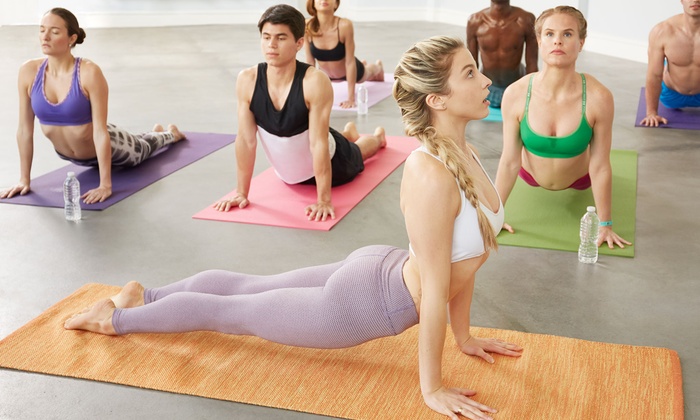 Yogis with long hair often have a terrible time keeping it tamed during their practice. The tangles of long locks can be painful to unknot after a particularly rigorous workout. What can seem relatively simple for most workouts doesn't always transfer to a regular yoga practice. For example, a traditional ponytail makes reclined postures painful on the back of the head.
So, what can yogis do to keep their long hair back during a practice? Try these essential hassle-free hairstyles to keep your hair under control during your next yoga class.
1. Headband And Low Ponytail
Headbands are a great way to keep loose strands away from your face during practice, but long hair tends to fly around them. Instead, try pairing this simple piece of headwear with a classic low ponytail, tied near the nape of the neck. The ponytail can be pulled over to one side and draped over the shoulder to keep the hair from pulling during a reclined posture such as the bridge pose or savasana.
Opt for a fabric headband with good grip to keep back shorter pieces that don't quite make it into the ponytail. If you're having a hard time finding one with an excellent grip, check the athletic wear section. Many headbands can be found here or among the yoga gear.
2. French Braid
For those who have a knack for slightly more intricate hairstyles, a French braid is ideal for yoga. A plait down the back of the head and straight down the neck makes it comfortable to lay down during reclined poses. Because of the way the hair is woven together near the crown of the head, it isn't likely to fall forward into your face, even in poses such as the downward facing dog or the standing forward fold. Secure it with a hair tie that is relatively small to prevent laying on it uncomfortably during savasana.
3. Side Braids
For yogis who don't have the knack for braiding required to weave a French braid, side braids are another excellent option. Part hair down the middle and plait each side separately. It keeps hair off of the back of the neck which can be a cooler option overall. It may also be more comfortable to lay on side braids than on a big French braid since all of them will be on the sides.
Start the braid just past the earlobe to keep it tied tightly to the sides of your head but to avoid all of the intricate combing required for a French braid. You can use fun hair ties at the bottom for a funky twist on this traditional style.
There are plenty of simple ways to style long hair suitable for even the most intense yoga practice. All of these methods look very fashionable with popular yoga wear, including yoga leggings, yoga pants, and high-waist Capri leggings. Fashion can be both practical and pretty with these simple hairstyles that all long-haired yogis will want to try during their next practice.